Film:

Palatine Bridge attorney Jesse Quackenbush has devoted much of the past decade to telling Johnny Frank Garrett's story. Now he's getting some help from Hollywood.

His 2008 documentary "The Last Word," which examines Garrett's trial, conviction and eventual execution for the murder of an elderly nun in Amarillo, Texas, on Halloween night in 1981, has been adapted into a horror film by "Twilight" actor Peter Facinelli's A&SLE Films.

The adaptation, slated for release in the summer of 2014, is a fictionalized account of the trial's aftermath. The story follows one of the initial trial jurors as he struggles to prove Garrett's innocence in the hopes of breaking a curse that Garrett uttered in his final words against everyone involved in the conviction.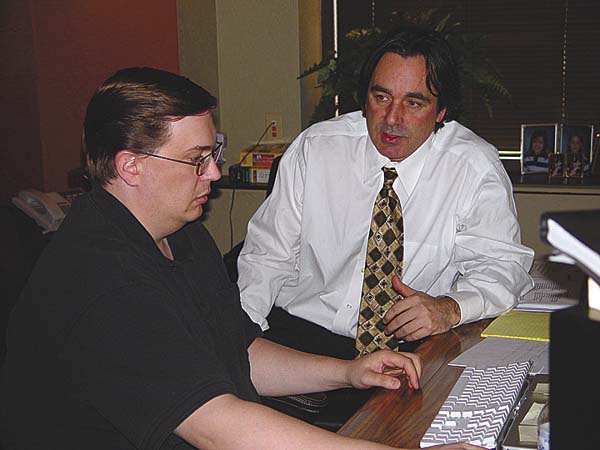 Left, "The Last Word" editor Kyle High and director and writer Jesse Quackenbush of Palatine Bridge assemble the film.
These fictional elements initially concerned Quackenbush, a native of Canajoharie who is in the process of relocating permanently to the area after 26 years in Texas. But he's happy that the story will live on in the public's mind in some form.

"I would say, yeah, I was somewhat concerned," Quackenbush said recently from Palatine Bridge. "I spoke with Frank Mancuso [the film's co-producer, along with Facinelli] about it on a number of occasions, and he was tossed about which direction to take it in. He really wanted to tell the real story, but he had to have Hollywood elements to make it marketable. In the end I trusted him to get the story out there in whatever way so that Garrett's name is carried on, even in a fictional version."

At age 17 Garrett was convicted of the rape, mutilation and murder of Sister Tadea Benz, a 76-year-old nun who was attacked while sleeping in her room at the St. Francis Convent in Amarillo. Despite numerous issues in the case, including contradictory hair and fingerprints found in the room and questions about the mentally retarded Garrett's ability to stand trial, all his appeals were rejected, and he was executed in February 1992. Sixteen years after Garrett's execution, he was exonerated by DNA evidence that placed the blame on Cuban refugee Leonico Perez Rueda.

Quackenbush himself has fictionalized the case before, in the 2004 crime novel "Leoncio's Candle of Death" written under the pen name Anthony Josef. That book set Quackenbush on the path to the documentary, which he wrote and directed.

"I had written a work of fiction loosely based on the facts of the Garrett case and published that, but I didn't feel very fulfilled telling a half-baked story of what really happened," Quackenbush said. "I contacted an attorney with The Innocence Project, Barry Scheck, who was O.J. Simpson's lawyer, and asked his advice on what to do. I was told by Scheck that The Innocence Project had limited funds, and was spending its resources on the living as opposed to the dead. They want to save lives, rather than exonerate the dead. But he suggested that I do a documentary."

Quackenbush, who studied political science and journalism at the University of Albany before relocating to Texas to study law at the University of Houston, from 1984 to 1987, was drawn to Garrett's case while in law school. During that time he worked with a law firm that was part of the appellate team assigned to Garrett's case.

"His actual innocence [drew me in]," Quackenbush said. "I was actually just working for the law firm, so I really had no involvement in the case. They were part of the appeal, and I became aware of this kid at that point."

Quackenbush interviewed almost everyone still alive who was involved in the original case over a period of seven months, including one of Garrett's defense attorneys and a juror.

"Some of them were reluctant at first, but I was fortunate to still have a lot of the people alive, because so many years had passed since the execution," Quackenbush said. "A lot of the major players were interested in talking about it, because for them it was a tragic moment as well, for those that believed this kid's innocence at least. I think the most compelling person we interviewed was the juror who, when confronted with the other evidence, said that he would have switched his vote, which would have led to a not-guilty verdict or at least a hung jury."

Before filming on the documentary began, Quackenbush worked on a number of major films to get a handle on directing. Among others, he was Kurt Russell's and Quentin Tarantino's stand-in on Tarantino's 2007 film "Death Proof."

"I was elbow-to-elbow with those guys for three weeks in Texas," Quackenbush said. "I didn't feel as intimidated by the process after sitting in on a few of those."

Quackenbush wasn't involved in the writing or filming of the new horror adaptation, also titled "The Last Word." The movie, directed by Simon Rumley and starring Sean Patrick Flanery and Erin Cummings, was filmed in about a month in Shreveport, La.

Facinelli called Quackenbush about producing the horror adaptation after viewing the documentary on Netflix. "He originally thought of starring in it himself, but then he partnered with another producer and decided not to act in it," Quackenbush said.

Although Quackenbush was unable to be on set during filming, he did hear back from Garrett's family.

"A lot of the cast and crew was really compelled to contact the Garrett family," Quackenbush said.

Quackenbush originally made the documentary as a protest against the death penalty in the U.S. He's hoping the same message will be conveyed in the feature film.

"I built the movie not to preach to the choir; I built it for those people who are pro-death penalty," he said. "I think I did a good job. A lot of people that watched it who were pro-death penalty and conservative, they're still conservative, but it turns their heads and makes them think. ... And now Hollywood, they thought it was an important enough story originally to latch on to it and develop it, primarily with a horror theme. But the bottom line, the message even as a horror film, is, what price do we pay as a society for doing these types of things, for executing the innocent?

By BRIAN McELHINEY , The Leader Herald
Original Article: Read here